Who we are...
Glossa is comprised of some of the most talented artists in the Cincinnati locally and across the COUNTRY! We are thankful for the opportunity to work with such amazing artists that have common vison and mission! Check us out!
Lyndsey Marie Yeager
Founder, Owner and Celebrity Makeup Artist
" Hi! I am THE original Glossa Girl, Lyndsey! With Youtube tutorials these days there are a lot of "fakeup" artists out there that claim to be artists but have no experience/training or that function on a superficial level. I have a strong core belief that all women deserve to feel beautiful about who they are from the inside out, you do the inside work and we can help you with the "out". I am very blessed to network with some of the best artists, who I have the privilege of representing. All of our artists are in agreement with our organizational values and mission which allows us to create consistency in the service you receive as the client. We bring out your best beauty, NOT your best makeup." -Lyndsey
Lyndsey's Bio:
Education: BA from Northern Kentucky University in Communications and Theater, Journeyman from the Make Up Designory in LA and holds a Masters Science of Leadership with concentration in Ministries.
Experience: In addition to working in the cosmetics industry for 18 years for companies such as Laura Mercier, NARS, Chanel and Lancome. Lyndsey has worked for large cooperation businesses commercially as well as celebrity clients such as: Maroon 5, Def Leopard, Goo Dolls, 311, Steve Martin and Martin Sheen, NASCAR (legends Kyle Petty, Dale Jarrett, Krista Voda and other NASCAR commentators on NBCsn) UFC Fighter Rich Franklin, Cincinnati Reds, Pastor Christine Caine, Pastor Lisa Bevere, Women's Fitness Expert Julie Lorhe, NFL Great Chris Colinsworth, Senator Rand Paul, Dave Waite, Miss Olympia Dana Linn Bailey and Miss Olympia Ashley Kaltwasser, IFBB Pro Monique Jones (Olympia), IFBB Pro Whitney Wiser (Olympia), IFBB Pro Justin Compton (Olympia), IFBB Pro Jenifer Roberts (Olympia), IFBB Pro Liz Yarsel (Olympia), Miss Pennsylvania USA, Miss Ohio USA, LA designer Kami Shade as well as companies/publications such as St. Elizabeth Hospitals, UC Medical professionals, Proctor and Gamble, Great American Insurance, Dublin Cadillac, Camargo Cadillac, Fox News, CNBC News, Meet the Press, Muscle Pharm, Dymatize Nutrition, Champion Apparel, Apollo Home, Beverly International, Oxygen Magazine, Beverly No Nonsense Magazine, Bodybuilding.com, Cincinnati Magazine, Cincinnati Brides Magazine, Ky Brides Magazine, Cincy Chic Magazine and much more! (Contact for full resume)
Special Skills: Lyndsey is not only a makeup professional, she also has extraordinary business skills that she shares with all the Glossa Girls, which make booking Lyndsey and the other Glossa Artists a sure bet for utmost professionalism. In addition to Leadership Development, Lyndsey has a passion for community involvement which has resulted in a business that reflects developing leaders and community responsibility.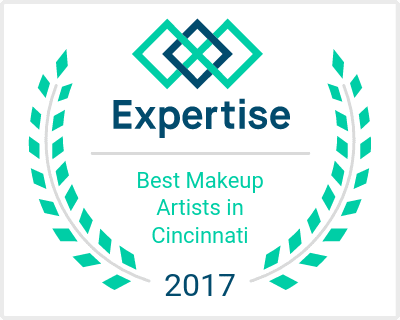 Our Values...
1. We are committed to Excellence - In skill, in service and in experience, we want any encounter you have with our team a wonderful and memorable one.
2. We believe in enhancing natural beauty - no matter what form of artistry, we believe makeup should be used as a tool and not as a camouflage. Its fun if desired to play with a more dramatic look, however makeup should always enhance and not distract.
3. We are not here to SELL you ANYTHIN G - Many makeup artists these days say they are "artists" and then get you in the chair and try to sell you on a makeup or skincare line. We will NEVER sell you anything, we JUST provide magnificent artistry.
4. We have individual styles and we work as a team - Makeup Artists are like shoes, not every artist is a perfect fit for each client. As Glossa artists, we want you to feel 100% comfortable, so if you want to try another atist...no problem.
5. We believe in community service and giving back - We all believe we are very fortunate and blessed to have the opportunity to make money doing what we are passionate about , therefore we believe in sharing our talents with a generous spirit to those in the community.
6. We value education - Even though all of us are professionally trained, we believe in continuing education and staying up on the latest trend. We do artistry training twice a year to make sure our artist are well informed.
7. We value family and balance - In a instant world where everyone is ALWAYS " on demand" we value family time and balancing work with pleasure. Delay times on email/phone response to be returned in our operating hours, is because we have created some boundaries to help us accomplish this balance. Also, this is why we honor Sundays to be an "off day" to spend with our church and family.
8. We value your money - We understand having your makeup done is a luxury service not a necessity, therefore we strive to give you a 5 star experience.
our mission....
As Glossa Girls (and Guy) it is our mission to empower our clients with ORGANIC confidence. Whether its a Bride on her special day, a Senior having his pictures done, a mother of 3 having a boudoir shoot, a hard trained fitness competitor stepping onto stage or a business man getting in front of the camera for a commercial....NO MATTER WHAT the circumstance, the outcome is the same....we bring out YOUR best beauty. We help give YOU organic confidence that is noticeable. We bring honor and light to the world by making it a more beautiful place, one face at a time.